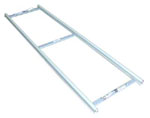 Hi-load Aluminum 24-1/2" Dolly Track (American Standard Profile)

Hi-load swing fold dolly track is constructed of anodized structural aluminum, and designed to carry maximum loads with minimum deflection. The track rails are flush with the ground, and thus supported along their entire length preventing any flexing between crossbars. The load carrying capacity of this track is rated in excess of two tons fitted with precision machined stainless steel cones and connectors for corrosion proof durability and maintenance free use. This track is light enough to carry to any location but rugged enough to survive the heaviest usage and proven by time to sustain less than 20% of damage recorded on heavier steel track.

Click photo for a larger image

Filmair dolly track is available in the following standard lengths, but can be manufactured to any length you may require.


Specifications and Dimensions
Std. Lengths
Weight Length
When Folded
2 ft. (607 mm)
8.5 lbs. (3.9 kg)
Fixed
4 ft. (1219 mm)
13.5 lbs. (6.1 kg)
6 ft. (1829 mm)
6 ft. (1829 mm)
19.5 lbs. (8.9 kg)
8 ft. (2439 mm)
8 ft. (2439 mm))
23 lbs. (10.6 kg)
10 ft. (3048 mm)
10 ft. (3048 mm)
28.5 lbs. (13 kg)
12 ft. (3658 mm)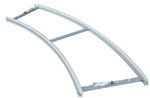 45 Deg. Curved 24-1/2" Dolly Track (American Standard Profile)

The hi-load curved dolly track is constructed of anodized structural aluminum and designed to carry maximum loads with minimum deflection. The inner and outer rails are in contact with the ground along their entire length preventing any flexing between cross bars. Therefore, the load carrying capacity is rated in excess of two tons. Eight of these curved sections are needed to make up a circle, which has a 20 ft. (6.0 m) outside diameter.

Click photo for a larger image


Specifications and Dimensions
Overall Length
Width
Weight
91.2" (2316 mm)
32.4" (823 mm)
22.5 lbs. (10 kg)

90 Deg. Curved 24-1/2" Dolly Track (American Standard Profile)

The hi-load curved dolly track is constructed of anodized structural aluminum and designed to carry maximum loads with minimum deflection. Flexing between crossbars is prevented as the rails are in contact with the ground along their entire length. Therefore, the load carrying capacity is rated in excess of two tons. Four of these curved sections are needed to make up a circle, which has a 14 ft. (4.2 m) outside diameter.

Click photo for a larger image


Specifications and Dimensions
Overall Length
Width
Weight
119" (3018 mm)
43.2" (1097 mm)
29.5 lbs. (13.5 kg)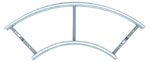 9-1/2 ft. Circle (American Standard Profile)

The hi-load curved dolly track is constructed using anodized structural aluminum and designed to carry maximum loads with minimum deflection. The load carrying of this track is rated in excess of two tons. Four sections of this curved track make up our smallest a circle which measures 9 ft. (2.9 m) in diameter. Fitted with precision-machined stainless steel cones and connectors, for corrosion proof durability.

Click photo for a larger image


Specifications and Dimensions
Overall Length
Track Width
Weight
78" (1981 mm) x 33.6" (853 mm)
24.5" (622 mm)
17 lbs. (7.7 kg)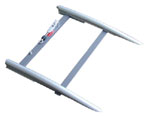 Starter Ramp for 24" Dolly Track (American Standard Profile)

The starter ramp for hi-load dolly track is constructed of anodized structural aluminum fitted with precision machined stainless steel cones and connectors, for corrosion proof durability.

Click photo for a larger image





Specifications and Dimensions
Overall Length
Width
Weight
27.6" (701 mm)
26.4" (671 mm)
6.5 lbs. (3 kg)