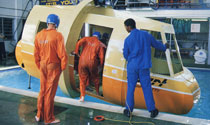 The Dunker is an ultra lightweight underwater escape training module of monocoque alloy construction for rugged, service-free durability and easy poolside handling.



It rests on four spring loaded rubber feet - or rubber sheathed skids - to ensure zero damage to pool surrounds.

The module can be custom dimensioned to simulate one or more rotary or fixed wing aircraft and can be fitted with generic escape windows or doors to train various categories of crew to evacuate safely after ditching.

The module is operated by fail-safe poolside controls. The roll action is controlled by dual pneumatic brakes to provide a reliable, maintenance free system that is 100% safe above or below water.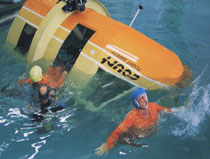 Even in the flooded mode, the module is light enough for the training instructors to manhandle underwater in the unlikely event of any emergencies.

The 750 kg empty weight allows the instructors to initiate a roll in any direction while the buoyancy system can accent or reverse the direction of roll on submersion.

Because of its unique light weight this escape training module can be fitted with an adjustable range, instant drop facility, to better simulate a "crash landing" on the water surface. The safety first instant hoist capability is not affected by the drop facility while the drop and roll actions can be preset to be automatically activated.

view slide show | view video clip